"Semi Automatic Sniper - Destroy from a distance"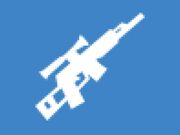 The CSG-1 is a weapon used by the Free Ranger class. It is a sniper that can hold fifteen bullets in the chamber at a time, and a maximum store of 60 bullets. The CSG-1 appears to be based on the Dragunov sniper rifle, however the Dragunov shoots faster and is more powerful that this gun. This gun was the only sniper in the game before the M2DZ was introduced in Version 0.20.0. The two weapons are different, however, since the M2DZ is generally one-hit-kill while the CSG-1 fires multiple rounds before reloading. If you shoot very accurately and hit the very center of the egg, it is expedient to kill in one shot, however, killing a moving opponent in one shot with the CSG-1 is very rare. The CSG-1 has a relatively low recoil time, allowing it to kill an opponent in less than 2 seconds.
The gun originally could carry 15 extra bullets and could only use five bullets before reloading, but this was upgraded to 60 when the M2DZ was introduced, as to separate the two very similar sniper guns apart from each other. The damage was also increased and the bloom/instability of the gun was also decreased later. Over many updates, the CSG-1's accuracy and statistics has changed many times.
CSG-1 Statistics
| | |
| --- | --- |
| Damage | 105 |
| Accuracy | 0.99 |
| Stability | 0.16 |
| Range | 50 |
| Rate of fire | 138 RPM (without reloading) |
| Scope FOV | 0.7 |
| Rounds | 15 |
| Store | 60 |
| Ammo Pickup | 15 |
| Bullet Velocity | 1.75 |
Skins
Name
Image
How to obtain
Notes
Default CSG-1

Every account, old or new has it
Can have this without an account too.
Cheap Wings CSG-1

2000 Golden Eggs in Shop
This CSG-1 since items update in Shell Shockers
Hearts CSG-1

5000 Golden Eggs in Shop
This CSG-1 since items update in Shell Shockers
Halloween CSG-1

Limited-time annual sale in Shop (Bought for 3000 Golden Eggs)
Halloween Exclusive ~ Oct.1 - Oct.31
Turkey CSG-1

Limited-time annual sale in Shop (Bought for 3000 Golden Eggs)
Thanksgiving Exclusive ~ Nov.1 - Nov.31
Christmas CSG-1

Limited-time annual sale in Shop (Bought for 3000 Golden Eggs)
Christmas Exclusive ~ Dec.1 - Dec.31
2019 CSG-1

Limited-time annual sale in Shop (Bought for 3000 Golden Eggs)
2019 New Years Exclusive ~ Jan.1 - Jan.31
Groundhog Day CSG-1

Limited-time annual sale in Shop (Bought for 3000 Golden Eggs)
2019/2021 Ground Hogs Day Exclusive ~ February 1 - February 28
Buck Rogers CSG-1

Can be obtained by getting an item code for this item and using it.
Blue Wizard Digital occasionally does giveaways for this item
Valentine's Day CSG-1

Limited-time annual sale in Shop (Bought for 3000 Golden Eggs)
Valentine's Exclusive ~ Feb.1 - Feb.28/29
Saint Patrick's Day CSG-1

Limited-time annual sale in Shop (Bought for 3000 Golden Eggs)
Saint Patrick's Day Exclusive ~ March.1 - March.31
Easter CSG-1

Limited-time annual sale in Shop (Bought for 3000 Golden Eggs)
Easter Exclusive ~ Apr.1 - Apr.30
Flame CSG-1

Was A Notification Item
You previously could get this from turning on notifications.
Rainbow CSG-1

10000 Golden Eggs in Shop

Steampunk CSG-1

10000 Golden Eggs in Shop
Memphis CSG-1

7500 Golden Eggs in Shop
Added for Shell Shockers 2nd birthday!
Star Wars CSG-1

Limited-time sale in Shop (Bought for 8000 Golden Eggs)


Can be obtained by getting an item code for this item and using it.


$10 USD In The Shop

From the The Fall of Eggwalker event
Nuke Zone CSG-1

7500 Golden Eggs in Shop
2020 CSG-1

Limited-time sale in Shop (Bought for 3000 Golden Eggs)
2020 New Years Exclusive ~ Jan.1 - Jan.31
Snake CSG-1

100000 Golden Eggs in Shop

Albino CSG-1

Can be obtained by getting an item code for this item and using it.
Blue Wizard Digital occasionally does giveaways for this item
Raid.Land CSG-1

6500 Golden Eggs in Shop.
Added for the celebration of Raidland going on steam.
Rotten Egg CSG-1

7500 Golden Eggs in Shop

Guitar CSG-1

Limited-time sale in Shop (Bought for 8000 Golden Eggs)

Can be obtained by getting an item code for this item and using it.

Galaxy CSG-1

Limited-time annual sale in Shop (Bought for 7500 Golden Eggs)
Limited-time ~ Aug.1 - Aug.31
Chicken CSG-1

Limited-time sale in Shop (Bought for 3000 Golden Eggs)
Catz Free Ranger CSG-1

Limited-time sale in Shop (Bought for 10 USD)
Sold throughout 2nd Half of November 2020, and says "Catz" each time it is shot
2021 CSG-1

Limited-time sale in Shop (Bought for 3000 Golden Eggs)
2021 New Years Exclusive ~ Jan.1 - Jan.31
Car CSG-1

7500 Golden Eggs in Shop
In the shop.
Merc Zone CSG-1

7000 Golden Eggs
CSG1 Summer

Limited-time sale in Shop (Bought for 3000 Golden Eggs)
Limited-time ~ July 1, 2021 - July 31 2021
CSG1 Pencil
Limited-time sale in Shop (Bought for 2000 Golden Eggs)
Available from September 1, 2021 - September 30, 2021