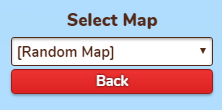 Maps are the main feature in Shell Shockers. They are battleground arenas that players can join matches in. As of Version 0.40.4, there are 41 current maps in Shell Shockers.
Important notes:
The maps in the public map pool used to change each month. Right now, three existing maps move from the private map pool to the public or vice versa every update. Since Version 0.39.7 in May 2021, maps moved in every update, not only just in monthly updates.
A new map gets added each month most of the time and is usually first added to the private map pool unless if it is for an event like EGG ORG for EGG ORG HQ.
These changes in the map pool are announced in The New Yolker', the game changelog, and the Discord server.
Sometimes the game developers make really small changes to maps like adding a ladder but they don't say what they changed.
During mid-November 2018, the official names of the maps in the game were introduced, along with a new map being introduced every so often. Early maps were not listed when they were added in the changelog so lots of them added before mid 2019 we do not know when they were added.
The majority of these maps are exclusive to private matches, where the map can only be played if the user creates it. That makes a private game where if you don't want someone in your game, you can kick them. Some of the maps can also be used in public matches, in which people will be joined into a random public match on the selected server. All maps can be used in private matches.
Maps
The dates are based on Version 0.40.4. They are subject to change per every update. Updates on this page might be late, so please be patient.
Private Map
Private Map
Public Map
Public Map
Public Map
Private Map
Private Map
Private Map
Private Map
Private Map
Private Map
Private Map
Private Map
Deleted
Public Map
Private Map
Private Map
Private Map
Private Map
Public Map
Public Map
Public Map
Public Map added Version 0.40.0
Private Map
Public Map
Public Map
Private Map
Private Map
Private Map
Private Map
Public Map
Public Map
Private Map
Public Map
Private Map
Public Map
Public Map
Public Map
Public Map
Private Map
Private Map
Private Map
Private Map