"Small magazine, medium distance, Big damage!"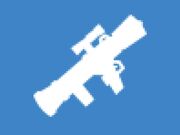 The RPEGG is the weapon used by the Eggsploder class. It is based on an RPG (Rocket-Propelled Grenade). It is the only rocket launcher in the game and has the lowest storage capacity. The rockets have different functions in the game than bullets. When aiming, the gun uses a scope to zoom in.
The RPEGG specializes in taking out groups of people from a distance. It also has the ability to deal damage around corners and clear passages, therefore making it powerful in large indoor areas like tunnels. Its major drawback is its remarkably insufficient close quarters' abilities, therefore making the Cluck 9mm important to learn before using the RPEGG.
The RPEGG is a missile launcher and the largest of the weapons. It can hold up to 1 bullet/rocket at a time, one bullet/rocket in the chamber, making it the lowest capacity weapon in the game. Because of this, you have to find a place with a good view and lots and lots of ammo and that place can be hard to find.
The RPEGG's rocket has very high spray and damage. When firing, the player finds and calibrates the target with a box-shaped target. If the box is red, the target cannot be hit and the rocket will fire but not explode and will do ten damage. If it is green, it is a far enough distance and can fire (Sometimes if it's very close to red it won't fire). If the rocket lands on an opponent unexploded it will deal 10 damage. You should fire the rocket about .5 seconds before the target is where you are aiming, depending on distance between you and enemy. Once the rocket is fired, the rocket fires and trails behind smoke. Upon impact, it has very high damage and splash damage. Similar to the M2DZ, The RPEGG is best used on large maps with far ranges. The rockets speed is not very fast though so your opponent will have some time to dodge. If your target has ground around then try to make the bullet explode instead of flying outside of the map. If you bullets lads on the floor close enough it will at least do some damage instead of none if you shot it out of the map.
Before Version 0.15.4, mid-November 2018, the scope of the RPEGG was identical to that of a CSG-1's and players were allowed to shoot while moving.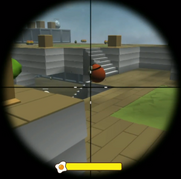 RPEGG Stats
| | |
| --- | --- |
| Damage | 140 |
| Accuracy | 0.99 |
| Stability | 0.2 |
| Range | 45 |
| Minimum Range | 3 |
| Rate of fire | 45 RPM (without reloading) |
| Scope FOV | 0.9 |
| Rounds | 1 |
| Store | 3 |
| Ammo Pickup | 1 |
| Bullet Velocity | 0.4 |
Gallery
Skins
RPEGG is a grenade launcher so it's very powerful!
Here there is a name, picture and and a way to get the item listed here for every RPEGG.
Name
Image
How to obtain
Notes
Default RPEGG

Every account, old or new has it
Can have this without an account too.
Cheap Wings RPEGG

2000 Golden Eggs in Shop
This RPEGG since items update in Shell Shockers
Hearts RPEGG

5000 Golden Eggs in Shop

This RPEGG since items update in Shell Shockers
Turkey RPEGG

Limited-time annual sale in Shop (Bought for 3000 Golden Eggs)
Thanksgiving Exclusive ~ Nov.1 - Nov.31
Christmas RPEGG

Limited-time annual sale in Shop (Bought for 3000 Golden Eggs)
Christmas Exclusive ~ Dec.1 - Dec.31
2019 RPEGG

Limited-time annual sale in Shop (Bought for 3000 Golden Eggs)
2019 New Years Exclusive ~ Jan.1 - Jan.31
Groundhog Day RPEGG

Limited-time annual sale in Shop (Bought for 3000 Golden Eggs)
Ground Hogs Day Exclusive ~ Feb. 1 - Feb. 28/29 2019/2021
Buck Rogers RPEGG

Can be obtained by getting an item code for this item and using it.
Valentine's Day RPEGG

Limited-time annual sale in Shop (Bought for 3000 Golden Eggs)
Valentine's Exclusive ~ Feb.1 - Feb.28/29
Saint Patrick's Day RPEGG

Limited-time annual sale in Shop (Bought for 3000 Golden Eggs)
Saint Patrick's Day Exclusive ~ March.1 - March.31
Easter RPEGG

Limited-time annual sale in Shop (Bought for 3000 Golden Eggs)
Easter Exclusive ~ Apr.1 - Apr.30
Flame RPEGG

Can be obtained by getting an item code for this item and using it.
Rainbow RPEGG

10000 Golden Eggs in Shop

Steampunk RPEGG

10000 Golden Eggs in Shop

Birthday RPEGG

7500 Golden Eggs in Shop
Added for Shell Shockers 2rd birthday!
Halloween RPEGG

Limited-time annual sale in Shop (Bought for 3000 Golden Eggs)
Halloween Exclusive ~ Oct.1 - Oct.31
Star Wars RPEGG

Limited-time sale in Shop (Bought for 8000 Golden Eggs)

Can be obtained by getting an item code for this item and using it.

Limited-time ~ Sep.1 - Sep.31
Nuke Zone RPEGG

7500 Golden Eggs in Shop
2020 RPEGG

Limited-time sale in Shop (Bought for 3000 Golden Eggs)
2020 New Years Exclusive ~ Jan.1 - Jan.31
Snake RPEGG

100000 Golden Eggs in Shop
Albino RPEGG

Can be obtained by getting an item code for this item and using it.
Raid.Land RPEGG

6500 Golden Eggs in Shop. Been very few codes for this item too.
Added for the celebration of Raidland going on steam.
Rotten Egg RPEGG

7500 Golden Eggs in Shop
Tuba RPEGG

Limited-time sale in Shop (Bought for 8000 Golden Eggs)

Can be obtained by getting an item code for this item and using it.

Galaxy RPEGG

Limited-time annual sale in Shop (Bought for 7500 Golden Eggs)
Limited-time ~ Aug.1 - Aug.31
Chicken RPEGG

Limited-time sale in Shop (Bought for 3000 Golden Eggs)
Limited-time ~ Sep.1 - Sep.31
2021 RPEGG

Limited-time sale in Shop (Bought for 3000 Golden Eggs)
Techno RPEGG
$10 USD In The Egg Shack

Obtained for free with the VIP Club

Car RPEGG

7500 Eggs
Merc Zone RPEGG

7000 Golden Eggs
RPEGG Summer

Limited-time sale in Shop (Bought for 3000 Golden Eggs)
Limited-time ~ July 1, 2021 - July 31 2021
RPEGG Pencil
Limited-time sale in Shop (Bought for 2000 Golden Eggs)
Available from September 1, 2021 - September 30, 2021