"Large Clip full of egg cracking bullets. Close to medium range"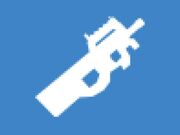 The SMEGG is a weapon used by the Whipper class. It is a rapid-fire submachine gun based off the FN P90 in real life. It was originally added with the M2DZ in Version 0.20.0. It can hold 40 bullets in the chamber at a time. Before Version 0.39.2, the SMEGG could hold 50 bullets per chamber, but then this was changed to 40.
The SMEGG is characterized by its extreme rate of fire and its quick time to kill. It has abysmal accuracy so it is used better in close range. It and the EggK-47 are the only two automatic weapons in the game.
Many people consider the SMEGG to be a "noob gun", due to the large numbers of people committing "spray kills" (shooting randomly around). However, with practice, this gun gives satisfying results when mastered as its accuracy is very high as in close-range. The SMEGG is almost overpowered if you aim at the very center at the egg in close combat, as only 4 bullets are needed to kill an opponent. Jumping around can help dodge enemy bullets, but doesn't give users a big disadvantage as the SMEGG has relatively high stability.
SMEGG Stats
| | |
| --- | --- |
| Damage | 23 |
| Accuracy | 0.91 |
| Stability | 0.52 |
| Range | 20 |
| Rate of fire | 600 RPM (without reloading) |
| Scope FOV | 1 |
| Rounds | 40 |
| Store | 200 |
| Ammo Pickup | 40 |
| Bullet Velocity | 1.25 |
Skins
Name
Image
How to obtain
Notes
Default Whipper

Every account, old or new has it
Can have this without an account too.
Cheap Wings Whipper

2000 Golden Eggs in Shop
This EGGK-47 since items update in Shell Shockers
Hearts Whipper

5000 Golden Eggs in Shop
This EGGK-47 since items update in Shell Shockers
Halloween Whipper

Limited-time annual sale in Shop (Bought for 3000 Golden Eggs)
Limited-time annual sale in Shop (Bought for 3000 Golden Eggs)
Turkey Whipper

Limited-time annual sale in Shop (Bought for 3000 Golden Eggs)
Thanksgiving Exclusive ~ Nov.1 - Nov.31
Christmas Whipper

Limited-time annual sale in Shop (Bought for 3000 Golden Eggs)
Christmas Exclusive ~ Dec.1 - Dec.31
2019 Whipper
Can be obtained by getting an item code for this item and using it.
Groundhog Day Whipper
Limited-time annual sale in Shop (Bought for 3000 Golden Eggs)
Holiday Exclusive
Buck Rogers Whipper
Can be obtained by getting an item code for this item and using it.
Blue Wizard Digital occasionally does giveaways for this item
Valentine's Day Whipper

Limited-time annual sale in Shop (Bought for 3000 Golden Eggs)
Valentine's Exclusive ~ Feb.1 - Feb.28/29
Saint Patrick's Day Whipper

Limited-time annual sale in Shop (Bought for 3000 Golden Eggs)
Saint Patrick's Day Exclusive ~ March.1 - March.31
Easter Whipper

Limited-time annual sale in Shop (Bought for 3000 Golden Eggs)
Easter Exclusive ~ Apr.1 - Apr.30
Flame Whipper

Can be obtained by getting an item code for this item and using it.
Not given out to the public to obtain yet.
Rainbow Whipper

10000 Golden Eggs in Shop

In the shop.
Steampunk Whipper

10000 Golden Eggs in Shop

In the shop.
Birthday Whipper

7500 Golden Eggs in Shop
Added for Shell Shockers 2nd birthday!
Star Wars Whipper

Limited-time sale in Shop (Bought for 8000 Golden Eggs)

Can be obtained by getting an item code for this item and using it.

From The Fall of Eggwalker event
Nuke Zone Whipper

7500 Golden Eggs in Shop
Based on another Blue Wizard Digital named Nuke Zone!
2020 Whipper

Limited-time sale in Shop (Bought for 3000 Golden Eggs)
2020 New Years Exclusive ~ Jan.1 - Jan.31
Christmas Whipper

100000 Golden Eggs in Shop

In the shop.
Albino Whipper
Can be obtained by getting an item code for this item and using it.
Blue Wizard Digital occasionally does giveaways for this item
Raid.Land Whipper

6500 Golden Eggs in Shop. Been very few codes for this item too.
Added for the celebration of Raidland going on steam.
Rotten Egg Whipper

7500 Golden Eggs in Shop
In the shop.
Guitar Whipper

Limited-time sale in Shop (Bought for 8000 Golden Eggs)

Can be obtained by getting an item code for this item and using it.

Limited-time ~ July.1 - July.31
Galaxy Whipper

Limited-time annual sale in Shop (Bought for 7500 Golden Eggs)
Limited-time ~ Aug.1 - Aug.31
Chicken Whipper

Limited-time annual sale in Shop (Bought for 3000 Golden Eggs)
Limited-time ~ Sep.1 - Sep.30
Techno Wipper
$10 USD In The Egg Shack
2021 Wipper

Limited-time sale in Shop (Bought for 3000 Golden Eggs)
2021 New Years Exclusive ~ Jan.1 - Jan.31
Car Wipper

7500 Golden Eggs in Shop

In the shop.
Merc Zone Whipper

7000 Golden Eggs
SMEGG Summer

Limited-time sale in Shop (Bought for 3000 Golden Eggs)
Limited-time ~ July 1, 2021 - July 31 2021
SMEGG Pencil

Limited-time sale in Shop (Bought for 2000 Golden Eggs)
Available from September 1, 2021 - September 30, 2021