Welcome to the Shell Shockers Wiki!
Welcome to the Shell Shockers Wiki!

Shell Shockers COVID-19 Statement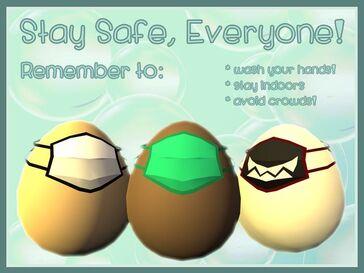 "Reminding all our egg-straordinary fans out there to STAY SAFE! Avoid crowds, stay home whenever possible, and WASH YOUR HANDS! (We're not yolkin' around, here!)

(And we're releasing some brand new items in the Shell Shockers shop so you can keep your eggs safe, too!)"

—@eggcombat on Twitter
About the Shell Shockers Wiki
This wiki is an egg-cracking community revolving around the popular game Shell Shockers. The wiki was founded on September 22, 2018 and is still thriving today! We're currently maintaining 56 pages. However, we're missing a lot of content. Help us out by editing and adding new pages!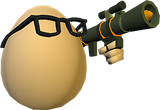 What is Shell Shockers?
"A Browser-based First Person Egger. Over 29 million served (over easy)."
—@eggcombat


Shell Shockers is a popular online browser-based FPS game in which players are given cartoonish weapons and pitted against each other. And there's a twist — everyone plays as an egg!
The game is developed by Blue Wizard Digital. It is playable on the PC in any browser at https://shellshock.io or https://eggcombat.com.

Poll
What is your favorite weapons class?

Community Message
Guest edits are now allowed on the wiki!
Edits from guest users are now enabled. You no longer have to be logged in to edit pages and add content to the wiki. The "Require all contributors to log in" wiki feature has been disabled, thus allowing anyone to edit content on the wiki regardless of whether they're logged in or not. The reason for this is to encourage more editing and contributions on the wiki, since as of now there's only one active contributor (which is me). I'll be able to put a stop to any vandalism that occurs as a result of this change.

So, if you're a guest user, feel free to help out! You're obliged to add any missing content that the wiki needs.
Hopefully there will be a visible rise in contributions by new users.
If you see any vandalism on the wiki, report it here.
Feel free to give feedback about this topic or anything else on the wiki.

Signed,

ComicalNinja
(
talk
)

Wiki Statistics
Created: September 22, 2018
Content:

56 articles
142 uploaded files
541 pages

Activity:

-1 active users
1,175 page edits

Important Notice
ComicalNinja
has
adopted the wiki
.
See
here
for the request.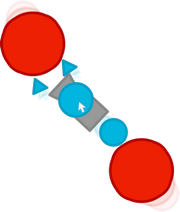 Community content is available under
CC-BY-SA
unless otherwise noted.