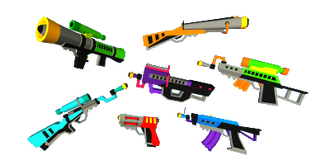 There are nine weapons used in Shell Shockers. There are seven primary guns that you can choose from before spawning, each with unique purposes and performances:
All weapons can be customized with Weapon Skins.
History
Before Version 0.25.5 (November 2019), and subsequent updates, the selectable classes were differentiated from their weapons. For instance, the EggK-47 was referred to as "Soldier" in the menu, and "EggK-47" was just the soldier's gun. With 0.25.5, the old classes and weapon names got mixed into singular names for each weapon class. EggK-47 and RPEGG kept their old gun names (dropping "Soldier" and "Eggsploder") while the rest kept their class names.
The old system was as follows:
"Eggk-47" class used the "Soldier" gun
"Scrambler" class used the "Dozen Gauge" gun
"RPEGG" class used the "Eggsploder" gun
"Free Ranger" class used the "CSG-1" gun
"Whipper" class used the "SMEGG" gun
"Crackshot" class used the "M2DZ" gun
The Pistol was called "Cluck 9mm"
Grenades existed but could not be customized
In Version 0.39.2, the Tri-Hard was added and grenade skins became available.
Current Gun Appearances
These are the current weapon models as seen in the main menu.
Old Gun Appearances
In addition to different names, the guns before 0.25.5 were blander-looking and much less colorful.