"Large Clip full of egg cracking bullets. Close to medium range"
―In-game description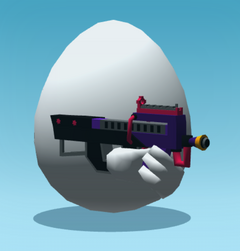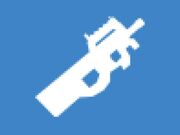 The Whipper, also known as the SMEGG or the P90, is a weapon class with a fully automatic submachine gun. The Whipper can hold 40 bullets in the magazine and carry up to 200 bullets additionally. It was originally added into the game with the Crackshot in Version 0.20.0. Before a nerf in Version 0.39.2, the Whipper held 50 bullets per magazine still carrying the 200 bullets additionally.
The Whipper and the EggK-47 are the only two fully automatic guns in the game. The Whipper has an extremely fast rate of fire and is mostly designed for close-quarters combat. It has a large clip combined with a high DPS ratio — the fastest DPS in the game. The Whipper arguably has the lowest skill ceiling of any weapon, because of its rapid automatic firing, large magazine, and quick damage.
Fun Fact: It is the worst thing that can happen to to long range weapon while fighting at close quarters, Only skilled Crackshot players stand a chance, mostly the player dies
Stats
| | |
| --- | --- |
| Damage | 23 |
| Max Chambered Rounds | 40 |
| Max Stored Rounds | 200 |
| Ammo Pickup | 40 |
| Accuracy | 0.91 |
| Stability | 0.52 |
| Range | 20 |
| Rate of fire | 600 RPM (without reloading) |
| Scope FOV | 1 |
| Bullet Velocity | 1.25 |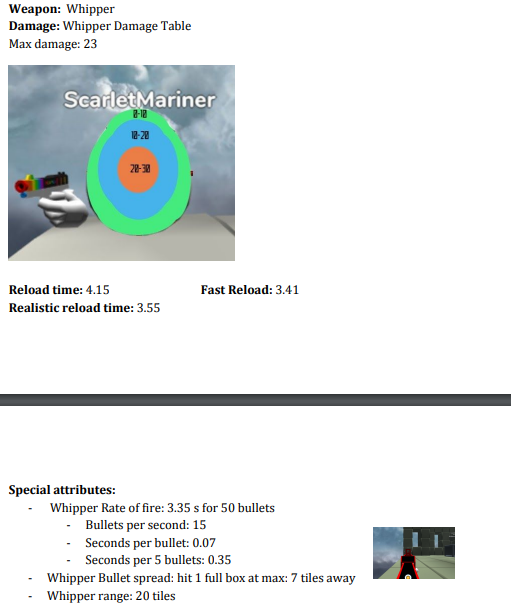 Gameplay Tips
When using the Whipper, jump around aggressively to kill. Since it has a big spread, you can move around a lot to dodge bullets. Also move erratically while reloading, as the Whipper has a long reload time, and standing still will lead to your death.
Try your best to avoid Crackshots unless you can ambush them at close range.
Also, never do all 40 bullets in one shot; you will waste time looking for ammo cartons, and people will make fun of you by calling you a spammer. Only shoot until the person is dead. Reload afterwards, so you won't waste time looking for an ammo carton. If in a emergency and you're not good at dodging, don't reload because reloading gives you a automatic disadvantage since you can't shoot. If you have to reload, try to run and jump randomly around.
Skins
Name
Image
How to obtain
Notes
SMEGG
Every account, old or new has it
Can have this without an account too.
SMEGG GOLD
2000 in Shop
This SMEGG since items update in Shell Shockers


Sold in the Shop

Happy Gun Bear SMEGG
5000 in Shop
Sold in the Shop
SMEGG Halloween
3000 in the Shop (Limited-Time Sale)
Sold During The Halloween Event
SMEGG Thanksgiving
3000 in the Shop (Limited-Time Sale)
Sold During The Thanksgiving Event
SMEGG Christmas
3000 in the Shop (Limited-Time Sale)
Sold During The Christmas Event
SMEGG New Years
Can be obtained by getting an item code for this item and using it.
Blue Wizard Digital occasionally does giveaways for this item
SMEGG Groundhog
3000 in the Shop (Limited-Time Sale)
Sold During The Groundhog Event
SMEGG Buck Rogers
Can be obtained by getting an item code for this item and using it.
Blue Wizard Digital occasionally does giveaways for this item
SMEGG Valentines
3000 in the Shop (Limited-Time Sale)
Sold During The Valentines Event
SMEGG St Patricks
3000 in the Shop (Limited-Time Sale)
Sold During The St Patricks Event
SMEGG Easter
3000 in the Shop (Limited-Time Sale)
Sold During The Easter Event
SMEGG Flames
Can be obtained by getting an item code for this item and using it.
Blue Wizard Digital occasionally does giveaways for this item
SMEGG Rainbow
10000 in Shop
Sold in the Shop
SMEGG Steampunk
10000 Golden Eggs in Shop

Sold in the Shop
SMEGG Memphis
7500 in Shop
Added for Shell Shockers 3rd birthday!

Sold in the Shop

SMEGG Space Egg Skin
12500 in the Shop (Limited-Time Sale)


Can be obtained by getting an item code for this item and using it.

Sold During The The Fall of Eggwalker Event
SMEGG Nuke Zone
7500 in Shop
Based on another Blue Wizard Digital named Nuke Zone!


Sold in the Shop

SMEGG New Years 2020
3000 in the Shop (Limited-Time Sale)
Was Sold During The New Years Event
SMEGG Country Singer
100000 in Shop
Sold in the Shop
SMEGG Albino Country Singer
Can be obtained by getting an item code for this item and using it.
Blue Wizard Digital occasionally does giveaways for this item
SMEGG Raid Lands
6500 in Shop (Limited-Time Sale)


Can be obtained by getting an item code for this item and using it.

Added for the celebration of Raidland going on steam.

No longer available in the item shop

SMEGG Toxic
7500 in Shop
Sold in the Shop
SMEGG Music
8000 in the Shop (Limited-Time Sale)


Can be obtained by getting an item code for this item and using it.

Sold During The Droppin' Mad_Breaks Event
SMEGG Galeggsy
7500 in the Shop (Limited-Time Sale)


Can be obtained by getting an item code for this item and using it.

Sold During The Galleggsy Event
SMEGG Chicken
3000 in the Shop (Limited-Time Sale)
Sold During The Chicken Event
SMEGG Techno
$10 USD In The Egg Shack
Could only be obtained during the second half of September 2020 via the Egg Shack


Fun Fact: Says "Tuh" each time it is shot.

SMEGG New Years 2021
3000 in the Shop (Limited-Time Sale)
Was Sold During The New Years Event
SMEGG Car
7500 in Shop
Sold in the Shop
SMEGG Merc
7000 in Shop
Sold in the Shop
SMEGG Summer
3000 in the Shop (Limited-Time Sale)
Sold During The Summer Event
SMEGG Pencil
2000 in the Shop (Limited-Time Sale)
Sold During The A+ Event
SMEGG Retro
$10 USD In The Egg Shack

(Limited-Time Sale) Obtained for free with the VIP Club

Could only be obtained during the first half of December 2021 via the Egg Shack
SMEGG 2022
3000 in the Shop (Limited-Time Sale)
Was Sold During The New Years Event
SMEGG Cards
1520 in the Shop (Limited-Time Sale)
Sold During The Egg Org Event
SMEGG Dino

5000 in the Shop (Limited-Time Sale)

Sold During The Dino Event
SMEGG Eggwalker 2
12500 in the Shop (Limited-Time Sale)
Sold during the Eggpire Strikes Back Event
SMEGG Sports
2500 in the Shop (Limited-Time Sale)
Sold During The Sports Event
SMEGG Breakfast
1500 in the Shop (Limited-Time Sale)
Sold During The Breakfast Event